Technical parameters: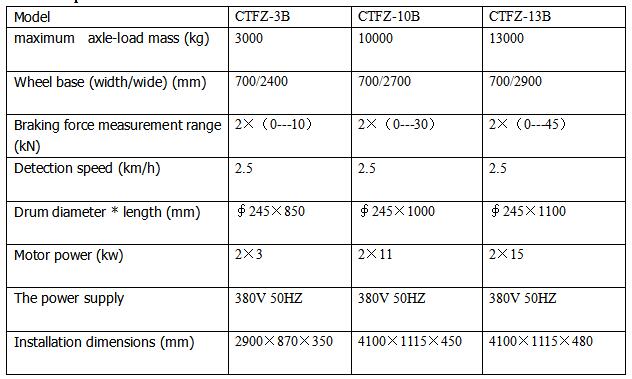 Product description:

The roller brake tester with axle load is used to measure the braking force of each axle (left and right wheels) and the wheel load of the inspected vehicle. It is mainly used to test the braking performance of the vehicle under the rated load-bearing mass. The roller brake tester with axle load can test and calculation the each axis (left and right wheels) block force of car, brake force and the deviation of brake force (process deviation, and maximum deviation), as well as the ratio of brake force and axis load , the ration of hand brake force and whole quality of the car. As the foot brake pedal pressure gauge is installed, the brake pedal force and the brake coordination time can be detected, and around round business power curve and pedal force curve can be recorded and printed. The equipment is core part of the motor vehicle security performance detection and the high technical performance requirements of safety testing equipment.
Main features:
1. The main body is wholly welded, with high intension, no need to fix the main body on the ground with ground bolts and it is easy to adjust and install.
2. The rollers are covered with high quality surface sand, advanced adhesives and technology, the adhesion modulus is above 0.85 in case of both dry and wet, the longevity is over 200000 times. Test precision is high, repetition performance is good, brake force errors <1.5% (National standard <3%).
3.The reducer is manufactured by European technology, and the main parts of motor, bearing, sensor, etc. are all domestic famous brand products, which have passed ISO9001 international quality system certification and CE certification
4. It can be equipped with high-quality sensors to form a brake tester with axle load, increase the items of testing the axle (wheel) load of the vehicle, which will reduce the floor area and save investment that means no need to buy a axle(wheel) load tester.
5.You can choose the test bench with or without airbag lifting device.(The airbag lifting device is for the convenience of the vehicle entering and leaving the tester)
6. With automatic stop device, to prevent tire abrasion. We can provide two options: the third roller stop device and the software controlled shutdown.